The title speaks clearly, I let myself be dazzled by the reviews and comparisons on YouTube of the various vs Bose where they boasted extreme superiority, and following the mantra of all the articles that praised their qualities stating they are "the best headphones money can buy" I got them for 349€, and I regretted it.
The reviews are patently false, probably paid by the producers, there's no other explanation as to why my modest 25€ MPOW would have an infinitely superior call quality.
After 5 days of use in all possible conditions, ie:
Open space office
Noisy street
Quiet street but a bit of wind
Bus
Train
At home, locked in another room with conversations outside the door
I sentence: the audio quality, meaning as balancing highs and lows frequencies while listening to mp3, streaming and video reproduction, is absolutely average.
The Active Noise Canceling (ANC) is nothing exceptional, on the contrary, the external sounds are reduced by no more than 60%, the voices instead are the real sore point, not because they do not disappear 100%, it is a current limit of this technology and that's ok, but they are even accentuated.
My hope was that being an over-the-ear model, and having the ANC, I would be able to make my calls in the noisy open space by being able to hear and be heard clearly, without having to book rooms and move from the desk, well it's the opposite.
Basically they only attenuate perfectly repetitive noises and amplify the voices of others, with or without checkboxes in their Headphones app regarding the "focus on the voice", not even disabling all the smart functions and setting the cancellation to the maximum removes the annoying amplification of the voices.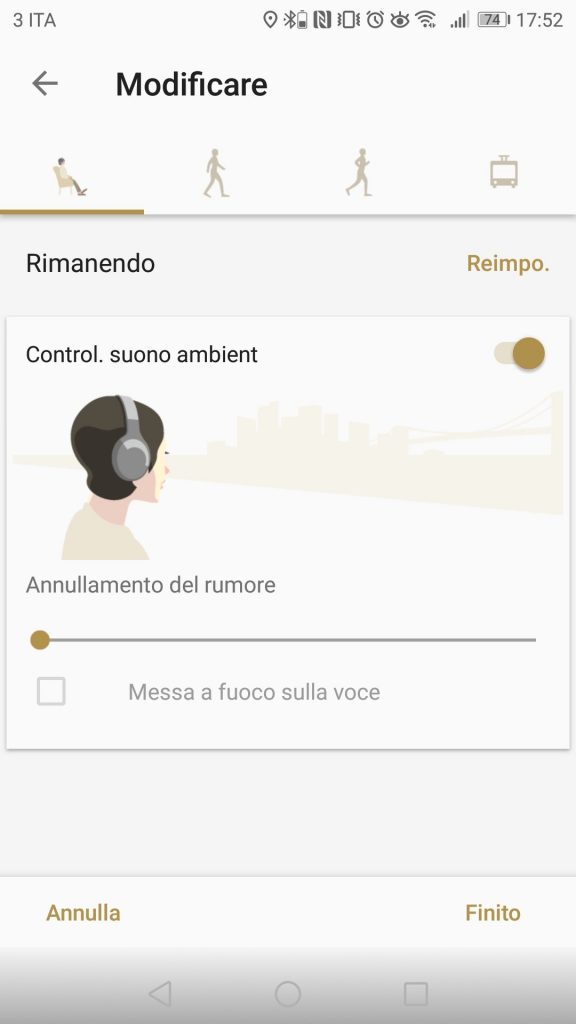 Even at home, closing myself in a room to make a phone call, I could hear in the headphones the amplified voices of the people who were talking on the other side of the door as if they were inside the room with me, absolutely terrible.
Yes, I've already updated the headphone firmware to version 4.1.1, and the most popular excuse on Sony support forums is that during calls the microphone that is used to capture the voice is the same one used for the ANC and therefore noise cancel is disabled.
So, on a device that cost 349€, they couldn't mount a second microphone, not a cVc enabled one but even a standard one, which would cost around 10€, to make decent calls?
Ridiculous, simply ridiculous, bad product design.
Do yourself a favor and do not spend more than 80€ on ANC-type headphones regardless of the brand, it is one of the cases in which spending more money does not bring any benefit, if not to the marketing department of the brand on duty.
Return started,
Shelf.